See The Difference?
These are the before and after-treatment cervical x-rays of a 35 year-old woman who had suffered a relatively minor whiplash injury in an auto accident five years ago.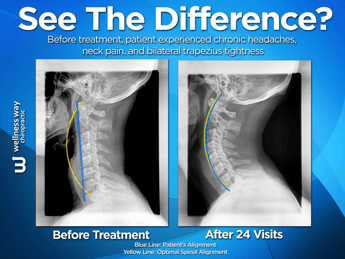 After the initial pain and swelling subsided she didn't complain about any lasting symptoms. However, two years later, she began having chronic headaches, neck pain, stiffness, and bilateral shoulder tightness. When conventional medical care and physical therapy didn't provide any lasting neck pain relief she began searching for a low-force chiropractor in Milwaukee and found Wellness Way Chiropractic.
When looking at the neck on an x-ray image, a graceful, forward curve is normal. That means that the convexity should be facing forward as seen in the "after" image on the right. This is called a lordosis and is the "normal" positioning for the cervical spine. However, certain structural stressors such as whiplash, chronic poor posture, or neck strain can cause a reversal of this normal lordosis.
The loss of normal cervical curve seen in this patient's "before" x-rays is surprisingly common in patients who seek us out for neck pain relief, but it is often dismissed by healthcare professionals focusing more on life-threatening pathologies and less on findings which might develop into long-term chronic health problems. However, if left uncorrected, this reversed curve can contribute to many of the symptoms linked to cervical misalignments, such as:
Tension and Migraine Headaches

TMJ Dysfunction and Pain

Vertigo and Dizziness

Chronic Muscle Spasm and Loss of Range of Motion

Disc Bulges and Herniations

Spinal Degeneration and Arthritis

Problems with Ability to Focus

Cardiovascular and Blood Pressure Problems

Poor Posture
Correction Through Chiropractic Treatment
Fortunately, after 2 months of chiropractic care with us (24 visits), the patient's cervical alignment was back to normal and her neck pain and headaches had disappeared! At Wellness Way Chiropractic we understand how a loss of cervical curve affects biomechanics and your long term outcomes. We can help correct spinal biomechanics, restore normal function, and get you out of pain and on the road back to optimal health. Don't want chronic neck pain, headaches, and spinal degeneration to be part of your future? Look for a low-force chiropractor in your area to to relieve any lasting pain or discomfort.
This article was originally published on wellnesswaychiro.com.
---

The "Take the Lead: Tech Neck to Perfect Posture" series focusing on engaging and challenging doctors around the world to Take the Lead in their communities to begin changing people's lives by integrating cervical curve remodeling and posture correction into their existing treatment protocols.
View the blogs, infographics, videos and eBooks in the Take the Lead Series:
Part 1
Part 2
Part 3
Part 4
---

Would you like information about the iTrac Cervical Curve Remodeling System? Request your copy of the iTrac Information Guide, which includes webinars, blogs, and research on cervical traction and the iTrac unit.