The main goal with any practice or business is to help your customers or patients to the best of your ability and to do things in your practice that help your business grow and sustain its viability.

By adding a spinal decompression program to your practice, you will achieve you goals of helping your patients get well while your practice thrives!
13 Reasons You Need to Use Spinal Decompression Therapy in Your Practice
1. Tons of patients with disc-related injuries are looking for a decompression doctor in your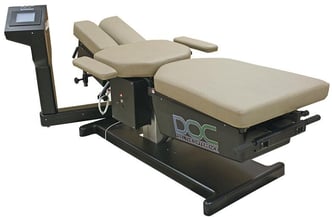 area. By offering decompression services in your practice, you will be able to effectively treat disc herniation, disc degeneration and disc sprain.
2. Spinal Decompression could be safer than manual manipulation for the treatment of disc herniations. Particular controversy exists regarding the safety and effectiveness of chiropractic manipulative technique in the management of this condition; some research has shown that manual spinal manipulation may be inappropriate in the treatment of lumbar disc herniation.
3. Spinal Decompression will give you a 100% return on investment (ROI) within months. Based on average demographics, paying off your DOC can be accomplished within months- you just need to attract approximately one new patient a month to cover your expenses related to spinal decompression!
4. Decompression allows you to add more patients and revenue without increase amount of time spent. Adding decompression to your practice require almost no direct time from the physician, allowing more revenue without increasing the amount of time spent!

5. Spinal decompression is effective in about 80% of back pain patients. Thousands of patient testimonials and more than 10 research studies prove spinal decompression's effectiveness.
6. Patients are willing to pay cash for treatment- no waiting for insurance payments! Since there is no shortage of patients with back or neck pain who have tried everything else with limited success and are looking for something more effective and more permanent- they are willing to pay cash for it!
7. Spinal decompression has the most features of any spinal decompression table on the market. With cervical and lumbar decompression, true lateral flexion, rotation and a 1 year warranty, the DOC Decompression table offers the most features than any other table on the market today. Additional features are virtual command center, disc angle level indicator, durable, custom vinyl, scratch resistant powder coat and a patient safety switch, allowing patients to immediately stop the treatment due to pain, spasm or discomfort.
8. Doctors have called the DOC Decompression table "the best table for the money." Not only will you be able to generate a 100% return on investment in just months, but many practitioners have had to purchase a second table very quickly just to keep up with the demand for all of the new spinal decompression patients.
9. Tax incentives will save you thousands of dollars; using the Deduction 179 deduction along with the Section 44 credit. By utilizing the Section 179 deduction along with the Section 44 credit, the net out-of-pocket cost for a $12,995 table could be only $5,516.
10. DOC treatments take an average of 12 minutes; this allows you to treat up to 32 patients per table, per day! There are clinics that have more than 10 decompression tables, and at $75-$300 per treatment, imagine the profit possibilities!
11. Spinal Decompression can minimize stress to YOUR hands, back, shoulders and save you from potential injury and physical burnout. the DOC Spinal Decompression table can provide a viable solution to physical burnout, because it requires very little effort to set up patients on the table.
12. The Spinal Decompression table will double the value of your practice when you decide to sell. At some point, you will want to sell your practice; by having a DOC Decompression system, you will give prospective buyers confidence to easily take over the existing practice.
13. DOC owners get hours of tips, techniques, patient protocols and more to maximize success! You will receive world class training from the best spinal decompression doctors, researchers and teachers around.
---
Are you interested in learning more about spinal decompression therapy and its benefits? Click below to download our Benefits of Spinal Decompression eBook to learn more from Pivotal Health Solutions' clinical doctors about spinal decompression therapy.