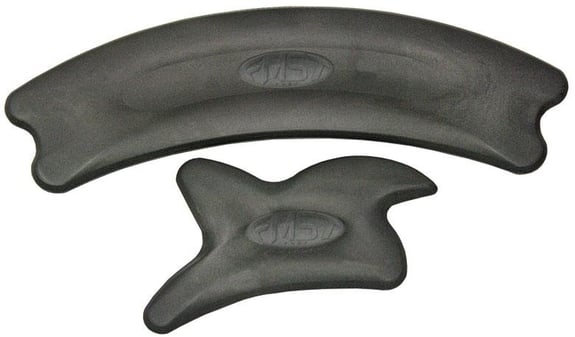 Our FMST (Fluid Motion Soft Tissue) Tools are used to effectively and gently manipulate tissue over all surfaces of the body, reduce scarring, control pain and improve joint and muscle flexibility. They were thoughtfully designed to be efficient and effective at the same time. Here are a few of the top features:
Easy to Use
The custom-molded, non-slip thumb grip makes these instruments easy to grasp and hold, even with slippery creams. The angular grip also allows for more control and ease of use. And at 12 ounces and 4.6 ounces, their superior weight allows practitioners to affect tissue with fewer strokes and less pressure.
The wave edge pushes creams/lotions back on to the patients skin to keep it off the practitioner's hands and off the top of the instrument for less slippage.

Innovative Design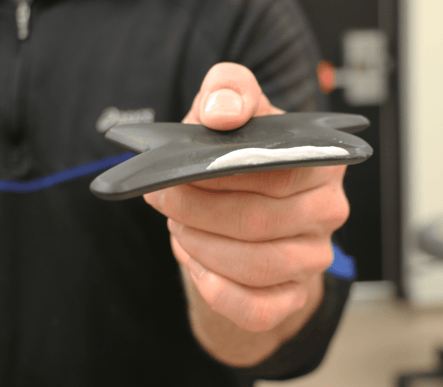 Every edge on the instruments is specifically designed to track lotion/cream back on the patient rather than onto the tool itself and the practitioner's hand. This eliminates the need to wipe the tools of lotion/cream during a treatment session and keeps the practitioner's hand free from slipping and sliding on the instruments.
The edge also has the proper design to grab the tissue in a way that allows proper glide between muscle and fascia to improve blood flow for healing.
These FMST Tools are made from a unique metal injected plastic (65% stainless steel) for ideal weight and durability. This material has a soft edge feel that improves patient comfort and healing. It's the perfect blend for a lifetime of optimal use.
These instruments feature an ambidextrous design so it doesn't matter if a practitioner is right-handed or left-handed, they can use them either way.
F1 Small Tool - used on more delicate areas of the body
The "V" edge

• for use on lateral and medial elbow injuries and smaller convex areas of the body


• used to treat tennis elbow, wrist injuries like de Quervain's tenosynovitis, acute ankle sprains, joint stiffness achilles tendonitis and most other soft-tissue conditions






The point/nose


• works well for thumb injuries, trigger finger, carpel tunnel syndrome, ligament injuries to the hand and much more

Concave sides

• used for convex surfaces of the body such as shoulders, forearm, calf, knees and thigh area




F2 Large Tool - used on broad areas of the body
Concave edge

• beneficially applied to scan and treat larger parts of the body such as the thighs, hips, ribs and obliques

• areas of the body that the F2 instrument is very effective is rib strain, quadricep and hamstring injuries, pectoral and shoulder conditions, acute and chronic thoracic lumbosacral conditions
"U" shape at each end of instrument



• specifically designed for scanning along the spinal column and effectively identifies areas of injuries or chronic fascial thickening in the interspinous musculature






Finding the right tools and instruments for your practice is important. Because our FMST Tools are so dynamic, they can help treat and heal numerous injuries and syndromes. When used with the proper techniques, they can be extremely beneficial to both your practice and your clients.


---
You might also like: