This blog was curated from an article entitled, "Laser Treatment for Treating Plantar Fasciitis" published on October 29, 2019 by Tina Beychok in Chiropractic Economics.
Heel pain is one of the most common complaints heard from patients between the ages of 40 – 60, and the culprit is often plantar fasciitis. It involves the inflammation of a thick band of tissue called the plantar fascia that runs across the bottom of your foot and connects your heel bone to your toes, and most often affects women, military personnel, athletes, obese individuals, and people who spend a great deal of their workday on their feet.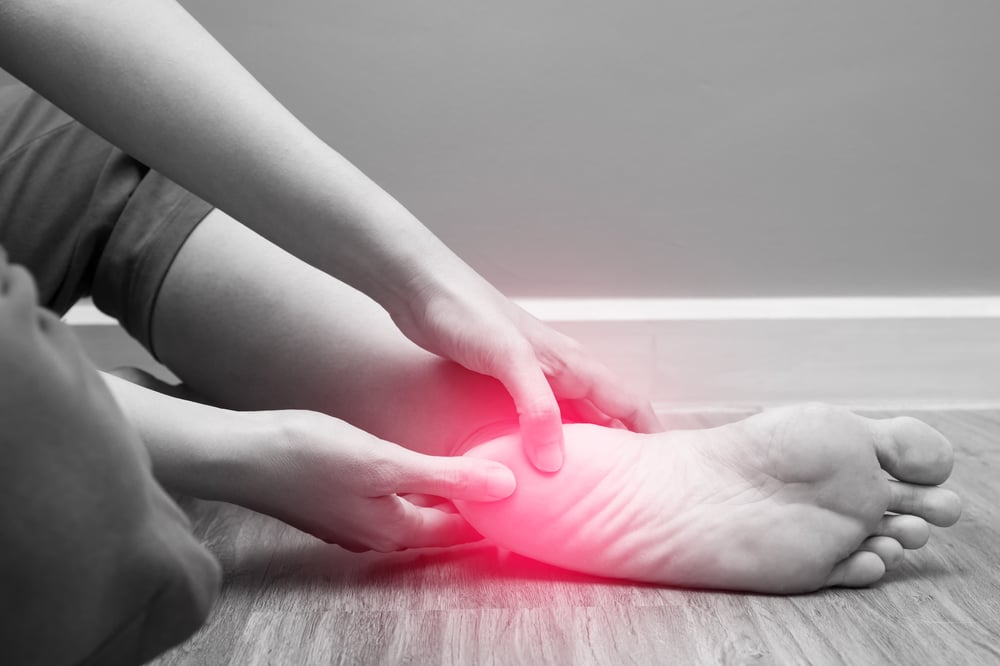 photo via Shutterstock
A Pain in the Arch
According to the Mayo Clinic, "Plantar fasciitis typically causes a stabbing pain in the bottom of your foot near the heel. The pain is usually the worst with the first few steps after awakening, although it can also be triggered by long periods of standing or when you get up after sitting. The pain is usually worse after exercise, not during it."
As you might expect, the plantar fascia weathers much wear and tear over an average person's lifetime. By the time a person reaches their 40s, excess pressure on the plantar fascia ligaments that has been building up over the decades can damage or tear them. This leads to inflammation, heel pain, and stiffness. This can be further exacerbated by the fact that ligaments, tendons, and body tissue naturally lose elasticity as part of the body's natural aging process.1
Risk Factors
Even though plantar fasciitis can develop without an obvious cause, some factors can increase your risk of developing this condition. They include:
Plantar fasciitis is most common for people between the ages of 40 and 60.

Certain types of exercise

Activities that place a lot of stress on your heel and attached tissue — such as long-distance running, ballet dancing and aerobic dance — can contribute to the onset of plantar fasciitis.

Foot mechanics

Flat feet, a high arch or even an abnormal pattern of walking can affect the way weight is distributed when you're standing and can put added stress on the plantar fascia.

Excess weight puts extra stress on the plantar fascia.

Occupations that keep you on your feet.

Factory workers, nurses, teachers and others who spend most of their work hours walking or standing on hard surfaces can damage the plantar fascia.
Treatment
Most conventional treatment consists of stretching, ice or heat as needed, and foot orthotics. However, recent research shows promising results from laser treatment for plantar fasciitis.
Low Level Laser therapy
A 2015 article published in the Journal of Foot and Ankle Surgery studied the effect of low-level laser treatment for plantar fasciitis on 69 subjects with unilateral, chronic plantar fasciitis.2
Subjects were randomized to receive either a placebo treatment or laser therapy twice a week for three weeks. Their pain was rated at baseline and at weeks 1, 2, 3, 6, and 8. Pain was measured on a visual analog scale and using sonography to measure thickness of the fascia before and after treatment. At the follow-up visit, subjects who underwent laser treatment for plantar fasciitis showed statistically significant improvement in heel pain.2
A more recent article in the journal Medicine (Baltimore) used the 2015 article as part of a meta-analysis to pool together the findings of several smaller studies on laser treatment for plantar fasciitis.3

This type of study is designed to improve the strength of the individual studies by looking for similar patterns among their findings. In this case, the researchers found that subjects treated with low-level lasers saw improvement in heel pain that lasted for up to three months after treatment.3
Apollo Desktop Laser Sytem
Standard Features:

Dimensions: 9"W x 11.25"D x 4.5"H

2 Channel desktop unit with choice of probe

Heavy-duty construction for office and clinic environments

Probe holders on both sides of the unit that can accommodate two probes and both right and left handed practitioners

Elevated face for easy viewing and control

Two timers allow you to treat 2 patients at the same time

Accessories included:

Travel Bag

12V DC Adapter

Operation Manual

2 Pair of Laser Safety Goggles

1 Probe Cable

Laser Tutorial DVD

Light & Laser Therapy: Clinical Procedures Book

5 Patient Brochures

Apollo Desktop Laser System with probe
Treatment Protocols
According to Dr. Curtis Turchin, MA, DC in "Light and Laser Therapy: Clinical Procedures Sixth Edition, "Start with 25-100 joules and titrate up slowly if there is an improvement in symptoms after each session. Half of the treatment should be focused on the painful points in the plantar fascia with the other half of the joules utilized painting over the symptomatic area. Begin treating three times per week and decrease frequency as symptoms improve."
In addition to low level laser therapy, Dr. Turchin also recommends the following: "During the acute phase, the patient should use ice or ice/heat on a regular basis. Taping and orthotics can be helpful. The patient should focus on non-weight bearing activities such as swimming and bicycling. In the subacute phase, regular stretching of the sole of the foot and Achilles can be valuable. As the plantar fascia heals and to reduce scar tissue, massage of the plantar fascia, can be quite helpful. If conservative therapy is not successful, referral to a podiatrist or orthopedic specialist is necessary."
Photo via PHS Chiropractic
Given both the need for older patients to exercise and the prevalence of plantar fasciitis, understanding how to treat it is vital. Fortunately, innovative treatment, such as laser therapy, can get your patients striding back toward better health and increased mobility.
References
Mayo Clinic. Plantar fasciitis.

org/diseases-conditions/plantar-fasciitis/basics/definition/con-20025664

Updated March 7, 2018. Accessed Oct. 25, 2019.

Macias DM, Coughlin MJ, Zang K, et al.

Low-level laser therapy at 635 nm for treatment of chronic plantar fasciitis: A placebo-controlled, randomized study.

Journal of Foot and Ankle Surger 2015 Sep-Oct;54(5):768-772.


Wang W, Jiang W, Tang C, et al.

Clinical efficacy of low-level laser therapy in plantar fasciitis: A systematic review and meta-analysis.

Medicine (Baltimore). 2019;98(3):e14088.