If you're considering adding low level laser therapy to your practice, compare wisely to ensure that the system you invest in matches the needs of your practice and patients. Dava Stewart of Chiropractic Economics offers the following guidelines for first-time buyers as well as those who are more familiar with low level laser therapy. Read the full article here.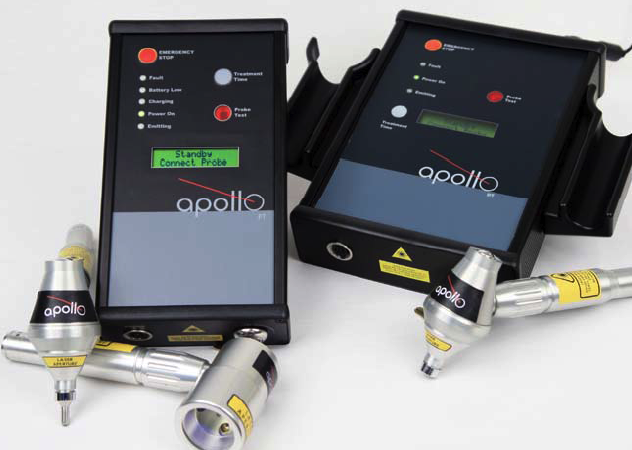 Photo by PHS Chiropractic
What is laser therapy?
Low level laser therapy (LLLT), also called cold laser therapy, is one of the most cutting-edge treatments that DCs and other health care professionals can offer patients. However, before rushing out to buy the latest and greatest laser system, there are some important points to consider.
Do you know how it works?


Understanding how LLLT can best be used to help patients is the first step. The Apollo Laser is a therapeutic, non-surgical, medical grade laser used by doctors, athletic trainers, physical therapists, and chiropractors. It non-invasively and painlessly penetrates 3-5 inches deep into the body with visible light into an injured area to reduce pain and inflammation and stimulate healing.

LLLT improves patient outcomes when certain conditions are met. Knowing what those conditions are and what is required for effective treatment is critical for those considering investing in laser systems. Power, intensity, and pulse, which are referred to as protocols when combined, are all critical when it comes to LLLT. Treating musculoskeletal conditions requires a different set of protocols than providing trigger point therapy with a laser. Some lasers have the protocols preset, while others provide digital reference manuals, and manufacturers handle protocols in different ways.
Health care professionals who know how LLLT can benefit patients and know the importance of protocols will have an easier time shopping. If at all possible, observe several laser systems being used, either by attending seminars, visiting other practices, or inviting manufacturing representatives to provide several different types of treatments to patients with various conditions. The American Chiropractic Association (ACA) recommends offering those treatments at no cost to the patient, as well as obtaining signed consent.

Photo by PHS Chiropractic
Do you know where to get training and support?


Another very important consideration is the level of training and support that is provided with the purchase of a laser system. Is in-person training, phone support or seminars included? Is there an additional cost for additional training or phone support? Is there a specific contact person assigned to answer questions? The newest, fanciest laser on the market will not improve a practice without adequate support.
Every Apollo Laser System also includes 90 days of free support from Dr. Curtis Turchin, MA, DC, a world-renowned speaker, educator and author with nearly 30 years' experience in using laser therapy to treat acute and chronic pain.


Will you be able to efficiently maintain the equipment?


Cleaning, repairs, upgrades and integration with existing systems are also areas of concern. All tools and equipment require cleaning and maintenance, and lasers are no exception. Knowing what to expect before making a purchase is helpful. Observing a regular maintenance schedule is critical to the operation and longevity of your laser. Apollo Lasers can be sent in for cleaning and calibration of the unit without the worry of being without a laser for a period of time because Apollo Lasers coordinate a rental laser unit with the customer.
Know the facts before you buy


A laser system can be a sizable investment, improve patients' lives and bring new patients to a practice. Taking the time to thoroughly research how the technology works, what is available at what price, and what will best fit into the existing workflow is worth the effort.



What sets the Apollo Laser system apart?
Price and performance. Most therapy lasers are either hot laser that cost 2-3 times the cost of the Apollo and are more dangerous to use or they are extremely low power and ineffective.
The Apollo Laser provides a safe and effective product with built-in early fault detection software as well as a diode test window. All of these features are available at a competitive price. In fact, most Class IV lasers are 2-4 times the cost of the Apollo, making it the most cost-effective Class IV laser on the market.
With probes up to five watts (5,000mW) of continuous power at 810nm, Apollo Lasers were created to achieve optimum energy density in a very short period of time. When you purchase, an Apollo Laser, you can control the energy density by using different probes and treatment times to achieve your desired results. No need to waste time trying to use complicated software driven lasers that will only interfere with your efficiency as a clinician. Plus, the laser comes with the best-selling book, Light and Laser Therapy: Clinical Procedures, 6th Edition, which will teach you how to quickly and easily select the correct treatment protocol for the condition.