Posture plays a crucial role in our overall health and wellbeing. Poor posture can lead to a host of health issues, including chronic back and neck pain, fatigue, headaches, and even digestive problems. Take a stand against poor posture by working more movement into your day and be mindful of your posture while at home, work, or at play.
SIT UP STRAIGHT
A person's sitting position can help maintain good posture and a healthy back and spine. In fact, sitting with a straight back and shoulders can help prevent common complaints such as lower back pain or a stiff neck. Here's a few tips on how to improve your sitting posture:
Keep feet flat on the floor or use a footrest

Avoid crossing the knees or ankles

Maintain a small gap between the back of the knees and the chair

Relax the shoulders

Keep forearms and knees parallel to the floor

Sit up straight and look forward without straining the neck

Keep the spine against the chair or using a backrest or cushion

Avoid sitting for extended periods of time and take frequent breaks

Switch positions regularly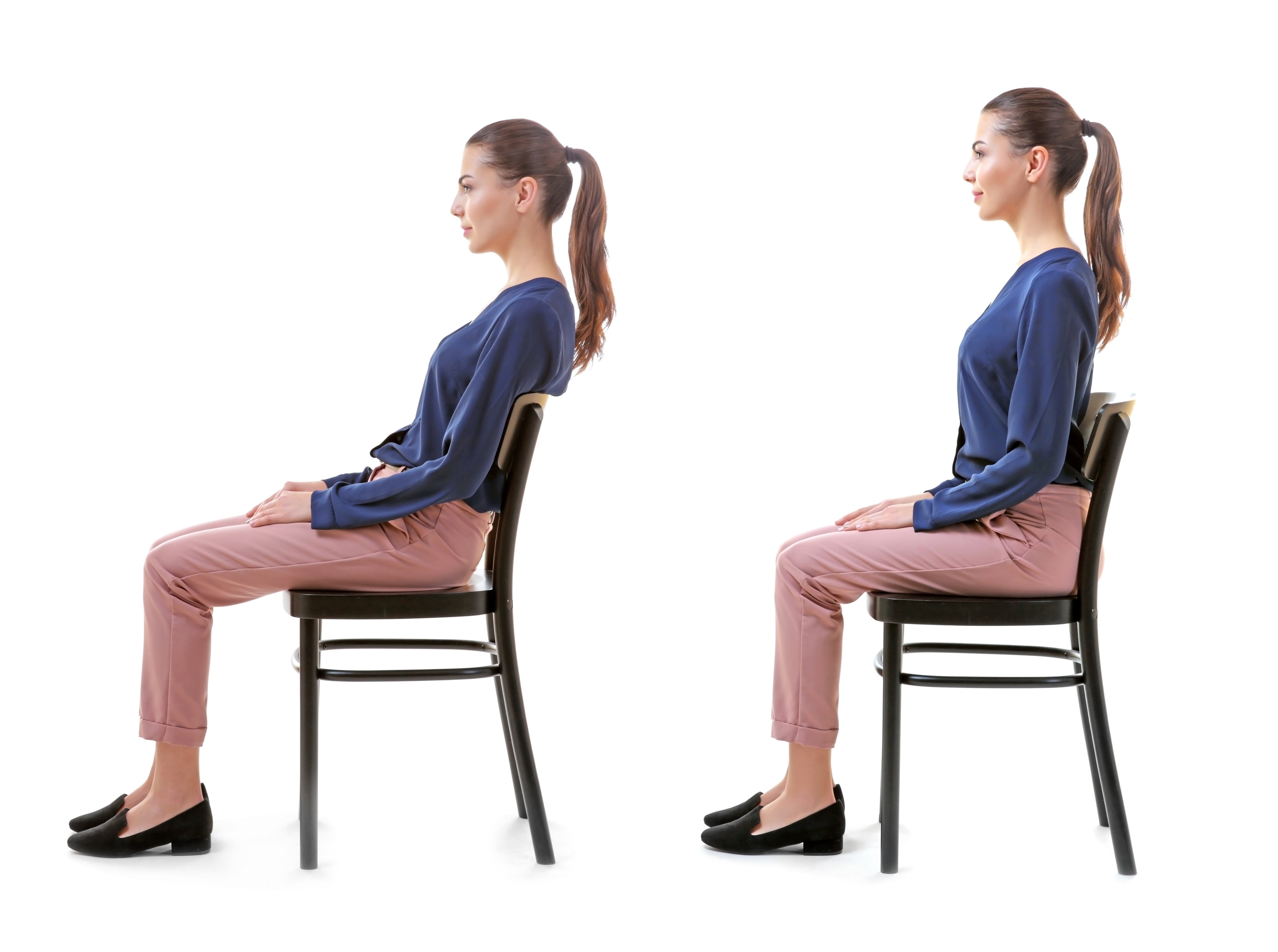 Photo via Adobe Stock
WORKPLACE POSTURE TIPS
Many people spend a large portion of their day seated including commuting, working in an office, studying, or relaxing at home. People who are required to sit at a desk for extended periods of the day at work or school can improve their sitting posture to maintain a healthy back by taking a few extra steps.
Position your computer monitor at arm's length and no more than two inches above your natural sight line
Use a variable height desk to alternate between standing and sitting
Utilize a headset for long phone calls to reduce neck strain
Use an ergonomic desk chair that is adjustable
Position the mouse and keyboard close together to avoid excessive reaching
Keep your arms at a 90 degree angle and don't reach for your keyboard


SITTING POSITIONS TO AVOID
Activities that cause an overuse of specific muscles, ligaments, or tendons can adversely affect a person's posture and spine health. Specific seated positions can be worse than others for overworking or misusing postural tissues. Reduce your risk of bad posture and poor back health by avoiding the following seated positions:
Sitting slumped to one side
Crossing the knees, ankles, or arms
Dangling the feet unsupported
Sitting in one position for an extended amount of time
Straining the neck by looking at a screen or monitor

MOVE IT OR LOSE IT
Many people spend long periods of time seated. Prolonged sitting can cause various adverse health effects including the misalignment of the musculoskeletal system, balance issues, impaired digestions, and reduced flexibility. However, by knowing the principles of proper sitting posture and following a few simple guidelines, posture and back health can be improved.
Need standing desks or a kiosk at your office?
We have that at Rev.247.
At Rev.247, we manufacture stylish and functional quality-crafted standing desks, office furniture, cabinetry, storage solutions, and workplace accessories, all with a customized look and feel to meet changing work requirements as diverse as you.
We created REV.247 as a way to help people work inspired in an ever-changing work environment. Based in Watertown, South Dakota, Pivotal Health Solutions serves as an industry-leading manufacturer of healthcare and wellness products. Our mission is to develop innovative furniture and equipment solutions that make a difference in the markets we serve.



This blog was curated from the article Sitting Positions For Good Posture by Jennifer Huizen. The entire article can be read here.