The healthcare field has changed and will continue to change rapidly. Having been in the chiropractic profession for over 30 years, I have seen various styles of practice coming to fashion just to see them go again. My own practice experience ranges from running three clinics with 7 doctors, 25 staff and $4 million a year in chiropractic care, to a small, part-time office rendering $200,000 worth of services with 1 doctor and a part time staff. Clearly the financial environment in the Chiropractic space has changed significantly over the years.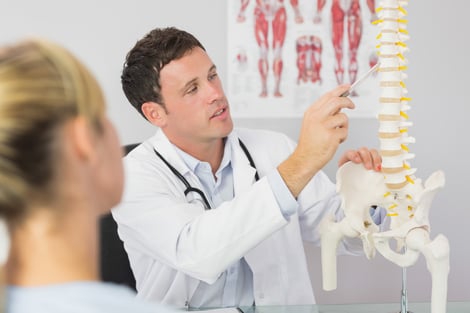 via shutterstock.com
For young doctors coming out of school it has become more and more challenging to start their own practice. Why? It's simply due to the fact that they often have large student loans to repay, have less than stellar credit and very limited savings. Getting a large loan to open their own facility has become very challenging. This not only holds true for young doctors that just graduated chiropractic college, but also for many practicing doctors out there who are in need of updating their equipment and their facility. Money is tight, health insurances reimburse less and less and to top it off, many patients have higher deductibles than ever.
Yet, I believe there is hardly been ever a better time to start out a chiropractic practice there now. A large percentage of the American public has been disenchanted with the common medical model and are actively searching for alternative care that helps them be active in their own well-being. Many of those patients are willing to pay cash when they perceive getting a value for the money.
Over the years I've been teaching chiropractors to move beyond the standard Chiropractic model of manual adjusting as the only model of care in the chiropractor's office. Many of the doctors have successfully integrated rehabilitation and wellness practices to see their practices flourish and grow.
Updating the look of your facility as well as getting into low tech rehab are two simple ways to invigorate your practice. A variety of great product lines are available by a variety of distributors. Many recent graduates coming out of chiropractic colleges are very well educated and are quite motivated.
So, how do we as a profession encourage struggling doctors to get into practice model that makes sense and doesn't leave them financially strapped for the next 15 years? I have come to the conclusion that one of the most profitable ways to practice Chiropractic is to have a small, part-time practice with low overhead and still make a $150,000 a year profit- just like many chiropractors did 50 years ago.
My current office in Santa Monica, California is open for patient time 16 hours a week and employs part-time front desk person. We process 60 patients during that time, render $20,000 a month of services with a $5000 a month overhead.
The practice has all of 600 ft.², a small reception area with front desk, 2 treatment rooms, and a restroom. One treatment room has a flexion distraction table which is also serves as my adjustment table. The other room is set up as a, low-tech rehab room which includes products such as the Whole Body Vibration machine, exercise balls, a few free weights, foam rollers, and an adjustment bench.
My particular practice philosophies are centered around rehabilitation principles, and as such, I process each patient from acute care to sub-acute care, to rehabilitation and then wellness. To run a successful practice based off this model, you don't have to my particular practice, and any philosophy will work. To be successful it is important that you offer great service, well-trained staff, and reliability.
I have worked with Pivotal Health Solutions over the last five years, and they now offer a line of tables and equipment with which the above model can be started for less than $10,000!
In the last six months I've come across several recent graduates whose parents had not been able to help them with school and tuition but were able to advance them the cash to open up offices and practice in the field that they studied.
If you are a recent graduate looking to get into the business or are a practicing chiropractor and feel stuck, contact Pivotal Health Solutions and find out how they can make your practice growth affordable.