Pivotal Health Solutions, (PHS) a leading provider for the health and wellness industry, has been named Master Distributor of Niel Asher Education (NAT®) throughout the United States. PHS has been working closely as Master Distributor with The Pressure Positive Company since 2010. Now these three companies will join forces to provide the most advanced, trigger point manual therapy education series and self care trigger point tools worldwide.
"We continue to strengthen our company, PHS through organic growth, acquisitions and strategic relationships. With the addition of Niel Asher Education (NAT®), the fastest growing online educational platform for professional development in trigger point therapy, we will broaden our product offerings and support to provide an educational foundation for manual therapists everywhere. This strategic partnership with Niel Asher Education (NAT®) and The Pressure Positive Company will help us provide tools and education effectively to help extend the health and longevity of manual therapists' careers and to provide continuing education for clinicians across multiple market segments," says, Lisa Lounsbrough, Marketing Manager, Pivotal Health Solutions.
PHS designs and builds products to meet the needs of an evolving health care system. Chiropractors, massage therapists, athletic trainers, and now anesthesiologists, physical therapists, and occupational therapists rely heavily on the extensive line of PHS products to launch and sustain successful practices. PHS offers a complete line of products made by steel fabricators, painters, textile workers, and woodworkers who put their hands and hearts into each product they build. Together with the self care tools developed and made by The Pressure Positive Company, practitioners are able to address the rapidly growing consumer interest in effective at-home solutions.
The Pressure Company Co. Director of Sales, Renee Gladieux Principe stated, "We are pleased that Niel Asher Healthcare (NAT®) has named Pivotal Health Solutions as the Exclusive Master Distributor for NAT® Self Care and Professional Learning Resources in the US. We all share a common dedication to current best practices within the fast growing modality of Trigger Point Therapy. Together, we will promote the continued safe use of our tools and their benefits in the context of a trusted, worldwide, educational brand."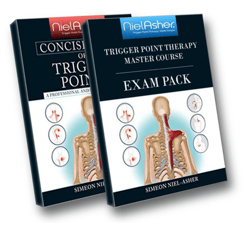 Niel Asher Education (NAT®) was co-founded in 1997 specializing in trigger point therapy books, health and fitness books, and professional development courses. Steve Marks, CEO of Niel Asher Education (NAT®) adds, "Trigger Point Therapy is the fastest growing modality in manual therapy. Consumers are more aware than ever before of trigger points (partly thanks to the proliferation of the foam roller); and trigger point therapy is in demand. NAT trigger point certification courses are designed to help therapists and exercise professionals increase their understanding of trigger points and to easily integrate non invasive trigger point modalities in their daily work." The education serves a wide audience including professional manual therapy and sports injury specialists, and increasing numbers of holistic lifestyle, sports, and fitness enthusiasts. This educational program is built around the foundation of three busy clinics that continue to treat thousands of patients each year.
Steve Marks, the CEO of Niel Asher Education (NAT®) states emphatically that, "The NAT brand has come to stand for integrity, quality, and value." PHS shares these values, and we welcome the opportunity to partner with one of the most respected names in the industry. We are confident that this partnership with PHS will help expand and meet the educational needs of our growing US client base."
To continue the momentum of being named Master Distributor, by Niel Asher Healthcare (NAT®), Pivotal Health Solutions plans to distribute the NAT education to four of their vertical markets, massage, chiropractic, physical therapy, and athletic trainers. There is a mass appeal and use of these market spaces, and the NAT education program will greatly benefit from all of them. The education will be presented via blogs, social media, and available on theirs and other websites for purchasable download.
About Pivotal Health Solutions: located in the mountains of Eugene, OR and the corporate office in the plains of Watertown, SD. PHS takes pride in "Made in the USA" and continues to be at the core of everything they produce. They offer beautifully designed, quality manufactured products for the complimentary health care field, all on American soil. For additional information or how to obtain the educational resources please contact: lisa@pivotalhealthsolutions.com.
---
---