Pivotal Health Solutions, a leading manufacturer of premium quality health and wellness equipment for over 20 years, has proudly unveiled its new table, the ME2002 Elevating Table-The Bolt. Specifically designed for doctors of chiropractic, this dynamic table has been designed and built with the highest standards of quality, integrity and innovation. The ME2002- The Bolt allows each practitioner to eliminate the constant squatting and bending while treating patients, leaving them with more energy at the end of the work day.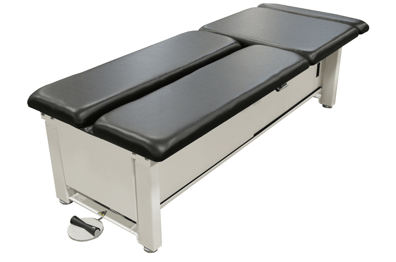 "We continue to strengthen our company through strategic relationships, a diversified business and experience in the industry," Jim Engels, CEO of Pivotal Health Solutions, said. "Our strategic partnership with Sidecar will allow both companies to broaden its product and service offerings and to support our initiative to more effectively benefit chiropractic and therapy professionals."
The ME2002-The Bolt was co-designed with Dr. Nathan Unruh, Chief Experience Officer at Sidecar, and is manufactured by Pivotal Health Solutions. The superior design of this table gives effortless assistance to the practitioner to effectively treat each patient.
Like all PHS' products, the ME2002- The Bolt is a versatile, comfortable table with features only available from Pivotal Health Solutions.
Key Benefits & Features
Designed specifically for the chiropractic practice
It's beautifully finished white powder coated steel base makes it aesthetically pleasing for patients.
Height range from 24" to 36" allows each doctor to do their best work and achieve patient results
3" high density foam cushion with a 43.5" L x 1.5" W face opening
An ankle extension elevating cushion up to 3.5"
2 foot pedals (one on each end) for easy elevation
1 mounted hand control
Built to be the most durable table available
Add a drop or an additional mounted hand control for additional clinic needs
Sidecar is dedicated to liberating chiropractors from the stress of practice management through support and training. Their founders have coached thousands of doctors on everything from brand-building to hiring and training to office design. It is their work with doctors that led them to partner with Pivotal Health Solutions to design a table that directly meets an industry need.
"The table in a chiropractic office is the primary tool where we do our work and achieve results for our patients," Dr. Unruh said. "It's where most of our first impressions are made, so it has to be aesthetically pleasing. It's where every patient is treated, so it must be durable. The table must also be adjustable so it can meet the needs of every doctor and patient. The ME2002- The Bolt was designed with all of this in mind, specifically for the busy doctor.".
---
About Pivotal Health Solutions
Pivotal Health Solutions was formed in 2007 with the mission of becoming the leading manufacturer and supplier of quality products to the health and wellness industry. In this journey, Pivotal Health Solutions has brought together some of the industries finest brands. With multiple manufacturing sites supporting products in the chiropractic, physical therapy, athletic training, massage, spa and medical markets, Pivotal Health Solutions has brought together one of the highest quality and most comprehensive product lines in the market today.
About Sidecar
With a collective 75 years in experience, SIDECAR can offer proven methods for achieving a successful chiropractic practice. We are here to liberate chiropractors from the stress of practice management by giving the support and training for achieving chiropractic success. Our highly-trained team offers solutions for billing, IT management, one-on-one-training and the best online training platform in the chiropractic industry. We are committed to helping chiropractors achieve affluence through our expert guidance. For more information, go to https://www.sidecaredge.com/