Low-level laser therapy offers a medication-free and gentle way to treat painful ailments, not only in humans but also pets. According to TribLive.com, more veterinarians and human owners are turning to laser therapy to help treat and improve painful conditions like degenerative disc disease or arthritis in pets.
Marilyn Roche watched with heartbreak as her 13-year-old pekeapoo stumbled in pain on his daily walks and struggled to climb steps.
"One day, he fell trying to get up to the deck and knocked out a couple of teeth," says Roche, of North Huntingdon. "I worried he would twist his back someday and wind up paralyzed."
Tests revealed degenerative disc disease and arthritis in several joints, making Peek-a-Boo Bear a candidate for K-laser therapy — a treatment veterinarians are turning to more and more to give dogs, cats, horses and even pet birds a new lease on life.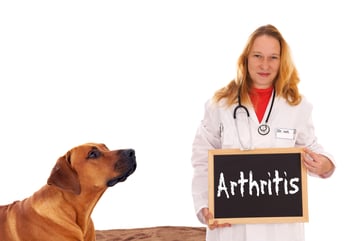 Approved by the Food and Drug Administration in 2002, laser therapy involves the application of infrared and near-infrared light to promote healing and reduce pain and swelling in areas affected by arthritis, trauma, surgery and infections.
Noninvasive and with virtually no side effects, laser seemed too good to be true, but Roche was eager to give it a try when it was recommended by Dr. Harvey Bendix at Norwin Veterinary Hospital in Irwin.
"Within two days of his first treatment, Bear was back to his old self," Roche says. "After six treatments, he was playing like a pup. I used to have to give him pain medicine with an eye dropper. I can't even remember the last time I needed to do that."
Stephanie Sweeney, also a client at Norwin Veterinary, says laser has worked wonders for her 10-year-old coon hound-German shepherd mix, MacKenzie, who suffers from an auto-immune disease that caused him to repeatedly lose his nails.
"He'd bleed profusely, and his paws would have to be dressed and redressed, which meant constant visits to the vet," Sweeney says. "He was always on pain medication."
Since completing six treatments last summer, MacKenzie hasn't lost any nails, and they look healthy, Sweeney says. "A couple of the nails are growing back at odd angles, but that's a huge improvement."
Laser is painless, quick and relatively inexpensive, with a session typically costing $35 to $40. When a six-week course of treatment is indicated for cumulative therapeutic effect, the cost is about $200, Bendix says.
"One of my favorite stories is of a gentleman whose dog came in paralyzed from a disc protrusion," Bendix says. "He couldn't afford surgery, so we did laser. Around the third or fourth therapy, the dog was standing, and at the end of six treatments, the dog was 90 percent back to normal neurological function.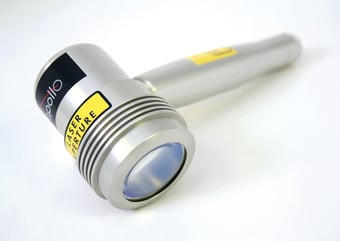 "Laser saved this dog," he says, "which might otherwise have been put down."
During treatment, a technician applies a laser light to the diseased or injured area with a wand, being careful to keep the laser moving. The light is powerful enough to cause superficial burns if it is not properly administered.
"Laser stimulates activity within cells to nourish them and remove toxins and waste," Bendix says. "It reduces inflammation and pain, improves blood flow to the treated area and increases the rate of tissue repair."
Pets often find the treatment soothing, because it creates a sensation of tingling and warmth where there is discomfort, Bendix says.
Leslie Ondek's 19-year-old feline, Blackie, used to hide when she brought out the cat carrier,because it signaled a trip to the vet. Since starting laser treatments for both arthritis and sore gums following tooth extraction, Blackie now scrambles into the carrier on her own, Ondek says.
"I say laser and she gets excited," she says. "It's like someone pulled a switch and turned off her pain."
Ondek stays with Blackie during the 15-minute sessions, wearing special glasses to protect her eyes from the laser light.
Alternatives to conventional surgery and steroidal drugs are opening up a world of options to pet owners, says Dr. Suzanne Mullings, of Allegheny South Veterinary Services in Bridgeville, who routinely performs laser therapy.
"If I'm not doing laser at least once a day, it's a day I'm not here," she says.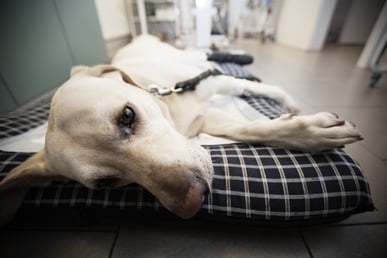 At the right setting, laser can kill bacteria, Mullings says. "I've used it to treat severe ear infections and anal sac ruptures that are so painful those guys don't want you to touch their tail."
One laser treatment was all it took to help Little Moe, a stray Maine coon kitten with a soft-tissue injury rescued by Joe and Lynn Moses of Upper St. Clair.
"His hind quarter was very tender, and he walked with a limp when we found him," Joe Moses says. "As soon as we got home from the vet, he ran to his food bowl. By the next morning, his limp was gone."
As versatile as it is, laser therapy cannot be used when cancer is present or suspected. And it doesn't always replace medications or nutrapharmaceuticals such as glucosamine chondroitin, which sometimes is given to treat arthritis; however, it can work with them for maximum effect, says Mullings, who believes in an integrative approach to veterinary care.
She is one of few area vets to offer stem-cell treatments to restore arthritic joints and recently added acupuncture — an ancient Chinese methodology — to her practice. "The only thing you can't treat with acupuncture are cancers, unless it's to make the animal feel better," Mullings says. "I most often use it in arthritis and pain management, but I'm treating a little Jack Russell terrier with acupuncture to help manage his epilepsy."
Mullings soon will add physical therapy to her clinic, so she can offer her four-legged clients rehabilitative exercises and massage.
But laser remains her "workhorse," she says. "It's just a very, very useful tool. It's really quite marvelous."