Do your patients ever give you a confused look after you explain a technique, exercise or position to them? It might be because you were using chiropractic or anatomy terms that they don't know the meaning of.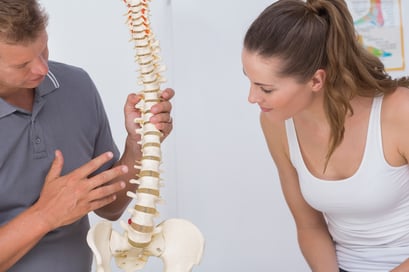 via Shutterstock
It is easy for professionals to talk in technical terms without skipping a beat, however, it is important for you to explain to your patients what these terms mean and how they relate to their care. To help you communicate with your patients more simply, we have put together a list of some common chiropractic terms with a brief definition that is easier for every day patients to understand.
Manipulation - also known as adjustment, is a procedure/treatment in which chiropractors apply controlled, physical movements to move joints and correct subluxations.
Subluxation - when a vertebra has lost its normal position and interferes with the surrounding joints and tissue and presents the body from functioning optimally.
Spinal Decompression (non-surgical) - refers to mechanically stretching the spine to take pressure off pinched nerves, herniated/bulging discs and other spinal injuries.
Joint Distraction

- moving joints and ligaments passively away from each other to create a stretch and reduce tension

Manual Traction -

moving joints and ligaments manually away from each other

Supine

- patient is face up, lying on their back

Supine Flexion


Prone Flexion

Prone - patient is face down, lying on their stomach
Flexion - bending movement the decreases the angle of two body segments; leaning forward
Extension - straightening movement that increases the angle of two body segments; leaning backward
Lateral Flexion - bending movement of the body sideways - usually torso or neck
Table Drop - a section on a chiropractic adjusting table that raises up slightly and with the force of an adjustment, the section pops back into alignment with the rest of the table. This creates more space for motion when the adjustment is applied
Ergonomic - a postural positioning that decreases load and stress on the body
Cervical Vertebrae - the upper portion of the spine immediately below the skull; neck area
Thoracic Vertebrae - middle of the spine; between the lumbar and cervical vertebrae; upper back
Lumbar Vertebrae - the bottom portion of the spine right above the sacrum; lower back
Sacrum - the triangle shaped bone located at the base of the spinal column
Atlas - the very first cervical vertebra of the spine/neck
Musculoskeletal - refers to the

structures involving bones, tendons, muscles, ligaments, and joints

Palpate - using your hands and fingers to examine or locate certain parts of the body
Tech Neck - refers to pain and soreness in the neck and shoulders from spending time sitting at a computer, looking at a cell phone and other handheld devices frequently.
Acute Pain - short duration that gradually resolves as the injured tissues heal. Relatively more severe and sharp
Chronic Pain - pain that outlasts the usual healing process and is persistent and long-lasting - typically longer than 3 months
Communicating with your patients in a way they understand will help ensure their trust in you and lead to better outcomes. Some other ways to help you gather your patients' understanding are focusing on only two or three key messages, speaking slowly, and using easy-to-understand written materials.
Resources:
https://www.chiroone.net/bewell/understanding-chiropractic-subluxation-explained
https://www.spine-health.com/treatment/chiropractic/all-about-spinal-decompression-therapy
https://mnchiroandrehab.com/2017/01/07/intersegmental-traction/
https://www.spine-health.com/glossary/acute-pain
https://www.aafp.org/fpm/2014/0100/p14.html