Chiropractic and Physical Therapy work great in conjunction with each other. Adding physical therapy to your practice can expand your services, allow you to treat a wider population of people and offer a more wholesome and thorough treatment experience for your patients. Chiropractors can address joint and skeletal issues while physical therapist can strengthen and stabilize the problem areas. Together, treatments can be more effective and convenient for patients.

Electric Treatment Tables
Ease of use, multiple options and a durable design make hi-lo electric treatment tables a popular choice among therapists. These tables help to decrease strain on the therapist from awkward positioning and the height can be lowered for patients who have trouble getting on standard height tables. Better ergonomics ensures patient and therapist comfort. The whisper-quiet lift systems and easy-to-operate caster system also make these tables ideal.


Wood Treatment Tables
Wood treatment tables are a classic staple in most physical therapy offices. They offer cost-effective durability and a space to thoroughly exam and perform a number of different exercises and treatments. Bottom shelves add storage options and lift back/leg cushions allow for better ergonomics.


Aluminum Treatment Tables
Newer to our product line, our aluminum tables have a sleek look, offer superior durability and can handle some of the harshest conditions, perfect for a lifetime of use. They also offer a higher load capacity and can be configured to your space and needs with different customizations available.


Click Here to View All of Our Physical Therapy & Rehab Products!
---
A Pivotal Practice is one that encompasses a variety of PHS products to be used in different areas of chiropractic as well as massage and physical therapy. Having a diverse list of treatment options opens your practice up to more opportunities and gives you the ability to successfully treat a wider selection of patients.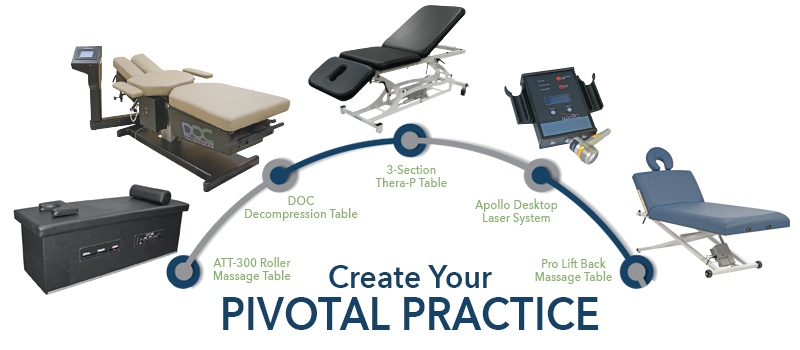 ---
We also carry modality carts, weight racks and medical cabinets!