Your hands and your table will perform thousands of adjustments during your chiropractic career. Choosing the right table to prevent injury to your body and provide comfort for your patients requires looking at many factors, including design, flexibility and price.
Table Design
Sixty years ago, Dr. J. Clay Thompson stumbled upon a discovery: Thanks to a chiropractic table with a broken headpiece that "dropped" during treatments, his patients were seeing phenomenal results. He designed and patented his drop headpiece in 1955—and history was made.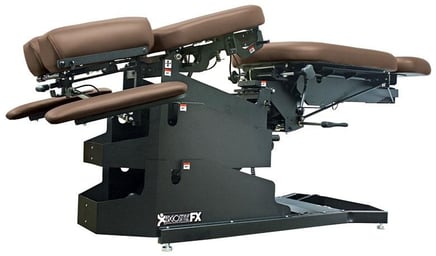 via phschiropractic.com
Today, most chiropractic offices feature some type of drop table, with options such as a tilting headpiece, thoracic, lumbar or pelvic drops. Drops themselves are based on two different designs:
Pin Drop: The pin-style drop is the most common and cost-effective drop mechanism. When the drop is engaged, a pin in the center of the table cushion "pops" the table up.
Patented ErgoStyle Drop: Pivotal Health Solutions holds the patent to a unique drop that elevates the entire cushion, rather than a single pin or point. This ergonomic design gives the adjusting table better accuracy and a smoother adjustment since patients no longer have to be precisely positioned above a pin. This feature also reduces the force that you need to apply, which reduces stress on you and your patient.
Flexibility
When shopping for a table, it is also important that you consider both your current and future needs. So while you may need to buy a basic table when you launch your practice, it is more cost effective to invest in one that that will be reliable and have the features you need for future growth.
PHS Chiropractic's Ergostyle tables offer the highest quality and its modular design allows for easy modifications and upgrades in the field, now or later as your practice grows!
Price
The final consideration is price. It is important for chiropractors to consider indirect costs and cost savings when contemplating buying a table. While pin-drops offer great value and quality, patented ergonomic Ergostyle drops can save wear and tear on your body because of their unique design. For a chiropractor, the hands, wrists and shoulders are the first "tools" that are injured during treatment, so an initial investment today can ensure that both you and your table age gracefully.