Fit. Whether it's our clothing or a new piece of equipment, we all want a good fit. It's a very important consideration, especially for chiropractors. A treatment table is one of the most important purchases a DC will make, so it is crucial to carefully consider how a potential table will fit your practice, your techniques, your patients and your budget. Steve Keller of ACA Today breaks down today's tables to help you find the right fit for you.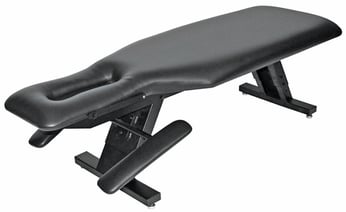 Choosing the right equipment for your office can be very confusing: What features do I need? Do certain options make sense? Should I buy new or used? The list can seem endless.
There are plenty of manufacturers of adjusting tables on the market; most make tables that fit a variety of techniques. So how do you choose what you need?
1. Make a list of the features you want in the table
A lot of this will be determined by the techniques you currently practice and would like to learn in the future. Some features to consider are:
HYLO—This feature takes a patient from a standing position to a flat position.
Elevation, which will electrically vary the height of the table in order to perform different techniques on the same table or enable doctors of different heights to effectively use one table.
Drops (manual or automatic)—a section of the table that can be cocked and dropped when a thrust is applied to aid or enhance the adjustment.
Flexion/distraction (manual or automatic) for treatment of the low back. The pelvic section of the table flexes downward and extends outward to aid or enhance the adjustment and to help stretch out the low back.
Chest breakaway—the chest piece breaks away in order to help facilitate the treatment of pregnant or obese patients.
One feature that I always suggest is elevation. First, the cost can be diminished because you can take advantage of Section 44 ADA tax credit. This allows for a tax credit on the purchase price of a table that includes this option. In many cases, this makes the final cost of the table less than the price of the same table in a stationary format. Secondly, the elevation feature affords much flexibility. It allows for one table to be used by a variety of doctors. *PHS Chiropractic does not guarantee tax credit eligibility. Please consult an accountant.*

For example, a 5-foot-10-inch doctor can treat a patient, followed by a 6-foot-4-inch doctor treating another patient by simply raising the table to adjust to the height of the doctor. In addition, you can perform a drop technique at the proper height, normally a lower height, and then increase the height to perform a low-force technique or soft-tissue work.

Elevation may be added or purchased for a variety of adjusting table models. It can be included in a drop table, a low-force technique table, a flexion/distraction table and so on.

2. Consider different tables depending on your budget, your experience and the recommendations of others
A lot of this may be determined by your experience and suggestions from others—what tables you are accustomed to using in the clinic, the tables your teachers suggest or the tables your associates like.
A major factor will also be your budget. Adjusting tables vary greatly in price—from a flat stationary table for under $500 to an ultimate table with virtually every possible feature for thousands of dollars.

Work on as many different tables as possible to find the features that best fit you. For example, drops will vary in speed and mechanics; some people will want only manual flexion, and others will want the automatic feature.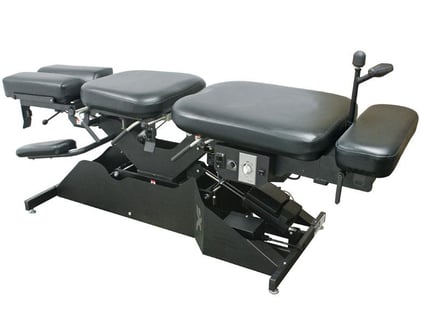 The main thing to remember is that a table that works best for one doctor may not work best for you. Try not to purchase a table without working on it. Just because it has a look that you like does not mean it will operate in a manner that suits you. In addition, utilize the knowledge of the people you trust who have purchased and used the tables.

Step 3. Consider new versus used tables
To buy a new or used table is probably the most debated question. Again, this comes down to budget. If you are running a successful practice, have the funds or could use the tax write-offs, then a new table is definitely the preference. If you are starting up a new practice, used is an option.

The problem when purchasing a used table is you don't ever really know how much time is left for the practical use of the table. Tables have many different mechanical features, such as electric motors, hydraulics, and mechanisms like drops. All of these things break and wear out, and they can be very expensive to fix, so the old adage "If it looks too good to be true, it probably is" often applies.

The best alternative when purchasing a used table is to look for a refurbished table from a reputable dealer. A reputable dealer will purchase the used tables, strip them down and then rebuild them to your specifications; replace and update mechanics, electrical components and hydraulics; and then paint, re-foam and recover in your desired materials. You will also receive some warranty on these tables. You can usually save 40 to 60 percent on a refurbished table over the purchase of a similar new table.

Your "Table Choosing Checklist:"
When selecting a table, follow a few easy guidelines:
Make a list of techniques you want to use and features you want on your table.
Work on as many different tables as possible, and talk to doctors who practice similar techniques to get their opinions on likes and dislikes in tables and what features they deem important.
Do not purchase a type of table that you have never worked on or that has not been recommended by an associate you trust.
When buying a used table, be careful. Remember the old adage: "If it looks too good to be true, then it probably is."
A refurbished table is a good alternative and can save you 40 to 60 percent over a similar new table.
Buy from a reputable dealer.