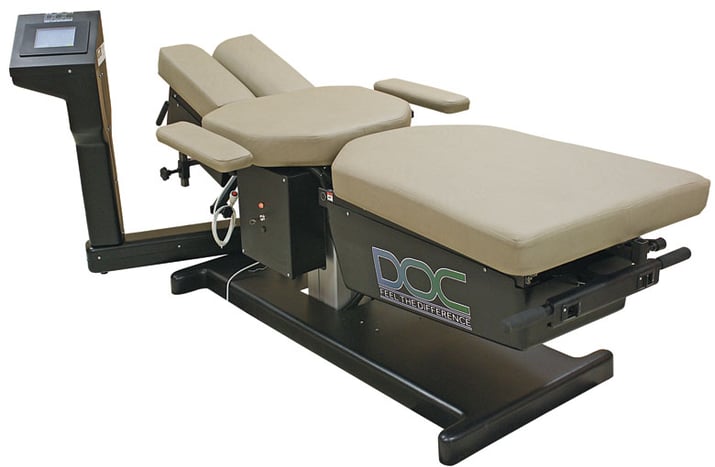 Chiropractic tables matter. There are many different types of chiropractic tables to choose from including portable tables, drop tables, benches, or hylo tables just to name a few. Each table has a specific function and has been designed for specific needs and treatment protocols. PHS Chiropractic manufactures a variety of different types of chiropractic tables. Let's review the main types, their primary uses, and how to select the best table to match the needs of your patients and practice.
What are the different types of chiropractic tables & how can you choose the best one to suit your patients and practice?

Common types of chiropractic tables
1. Portable Chiropractic Tables
Similar to stationary chiropractic tables, portables offer many of the same features such as drops and adjustable headrests, but are efficiently designed and easy to move and store. (Basic Pro, PCT-1000)
2. Chiropractic Benches
Similar to portable chiropractic tables, benches offer numerous adjustment features such as adjustable head pieces, drops, and variable height.
PHS Chiropractic bench tables are available in firm foam or soft foam, and either a tilt headpiece or a fixed headpiece. Typically, these tables ship unassembled for the most cost-effective shipping. If you want them assembled, we can do that also. (EB9000, EB9010, EB9020, EB9030)
3. Hylo Tables
Hylo chiropractic tables are typically stationary treatment tables that offer tilting capabilities to assist patients with mobility and positioning issues.
The PHS Chiropractic Hylo table, like an elevation table, is adjustable by height and can also be positioned vertically. This specialized table starts in the upright position. The patient slightly leans forward on the table while standing and the doctor is able to lower the table and patient safely to a horizontal position. This vertical alignment can be useful for chiropractors working with patients with limited mobility and positioning issues.
Different manufacturers may label these tables as "hilo" or "high-low." (Available with the EH9400).
4. Elevation Tables
Elevating chiropractic tables are adjustable by height and may use a motor, hand control or foot pedal, or be manually adjusted to increase or decrease the height of the table. The benefit of an elevation table is that it requires less strain for the doctor when he or she is making chiropractic adjustments. These tables also qualify for the ADA Tax Credit. PHS Chiropractic tables that have elevation include: EB9060, E9012, E9017, ES2000, ES5820, EH9400.
5. Drop Tables

Drop tables can have various sections that can raise about an inch and then "drop" down with the weight of the patient and adjustment pressure using gravity to help return the joint to a healthier position. Typically, these types of tables require less maintenance and are less expensive. They may have elevation or be a stationary height.
PHS Chiropractic also manufactures Drop Tables with the auto cocking feature, where the table utilizes an air compressor to engage the drop by stepping on a foot pedal. No physical exertion on the part of the chiropractic is required. On PHS Chiropractic tables this feature is only available with ErgoStyle Tables including the ErgoStyle ES2000, ErgoStyle FX, or Hylo tables.
6. Flexion Distraction Tables
The aim of flexion distraction tables is to help relieve spinal pressure caused by disc issues or low back pain, Similar to drop tables, flexion distraction tables feature several moving components that the practitioner can adjust for treatment.
To perform the flexion treatment, the doctor uses the table to move the patient's body. Back Extension is the backward bending of the spine. Back Flexion is the forward bending of the spine. PHS Chiropractic Flexion Tables can do both, and they can perform with Manual or Auto Flexion. (E9017, ES5820)
7. Chiropractic Roller Tables
Specially designed for pre-treatment therapy and massage, intersegmental roller massage tables feature large rotating rollers that travel both clockwise and counterclockwise up and down the spine to knead and relax muscles in the neck, shoulders, and lower back. PHS Roller Tables are the ATT-300, Quantum Q400, and ErgoWave EW9080.
8. Decompression Tables
Decompression therapy alternates between stretching and relaxation as an alternative way to stretch the spine to ease disc pressure by moving spinal fluid to move back into place.
The DOC (Decompression of Choice) Decompression Table stretches and relaxes the spine intermittently in a controlled manner using the technology of this high end table with the goal of relieving back pain and/or leg pain. This table uses sensors to detect muscle resistance and can store patient profiles.
The DOC Decompression Table creates a negative intradiscal pressure (pressure within the disc itself) to promote retraction or repositioning of the herniated or bulging disc material. During this process, the patient lies on the table with a strap around the torso. The table is rotated and lengthened in specific ways to elongate the impacted area of the spine to release pressure. (E9011, E9017)
---
Chiropractic Table Selection Tips

:
While inexpensive options might work for your practice, a more expensive table that allows you to do more with less strain on your body might be worth the investment. We'd hate to see the chiropractor need to see a chiropractor.
Choose a reputable manufacturer who offers support and service. We have you covered.
What is the warranty? Look for at least a one year warranty on your table.
What is the weight capacity?
Ensure that the table is comfortable for you and your patients. Many PHS tables are designed with ergonomics in mind. How supportive are the cushions? If you have a chance, look closely at the table, feel the table for yourself, or speak with another doctor who that has that table.
What kinds of patients do you treat? Do you have patients with limited mobility?
Be sure the table has the features you want which may include drops or a breakaway/elevating abdominal. Do your treatments require flexion distraction?
Consider maintenance. How easy is it to clean between patients? Does your table require continuous maintenance and upkeep? Will you need assistance with maintenance and calibration?
Shop around. Call Pivotal Health Solutions. Chiropractic tables are a significant investment for your business and we'd love to help you find the right table.
This blog was curated from an article entitled Types of Chiropractic Tables and How to Choose One by Chirotouch published on September 24, 2022. Read the entire article here.