This review of our Basic Pro Portable table, by Dr. Beau Pierce, was originally published here.
The chiropractic table you choose to use for your practice is crucial. Whether you have various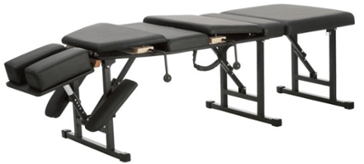 stationary tables in your practice and one or two trusty portable tables for house calls, it is in the best interest of you as a chiropractor and each patient that you invest in the best of the best table.

When Lisa, the marketing manager here at Pivotal Health Solutions read that our friend, Dr. Beau Pierce of Circle of Docs, was in desperate need of a new portable table, she decided to send Dr. Pierce our best portable table to try out. A few days later, Dr. Pierce received our Basic Pro Portable Table and began to give adjustments to his neighbors, friends and anyone willing to get an adjustment for a small donation. After spending a weekend giving adjustments, Dr. Pierce made a short video gave our Basic Pro a peer review to discuss how it was different from the other tables he had used in the past.
---
This table is beautifully portable, the Basic Pro portable chiropractic table is still tough enough to withstand the requirements of the most demanding use. It features both thoracic and pelvic drops, adjustable headpiece and a height range of 18.5″ – 22.4″.
Features
2″ Thick Multi-layered Firm Foam System
Black Upholstery Only
Adjustable Ankle Extension
Thoracic and Pelvic Drops
Adjustable 5 Angled Headpiece
Hand Rests
Paper Holder
Narrow Shoulder
Folding Leg Construction
Carry Case
Specifications
Weight Capacity: 400 lbs
Folded Table Dimensions: 37″ x 21″ x 8″
Table Dimensions: 70" L x 21.5" W
Table Weight: 46 lbs
Here is a recap of my thoughts on the table.
3 Things About The Basic Pro Table:
The Design: This table is rock solid! It's built extremely well.. It is not flimsy and way more stable than my current portable.
The Drops: Having built in drop features is amazing. If you have never used a portable drop table, you don't know what you are missing. The only thing I can equate it to is driving in a pre-A/C car on a 110 degree with blistering hot air blowing on your face versus being in a Denali with ice cold air keeping you at a constant 69 degrees.
This table is NOT for everyone. If you are looking for an ultra lightweight solution, then this table is not for you. This table weighs in at 46 lbs. and is solid.
Price: The great thing about this table is that it is built well but will not cost you thousands of dollars in return.
---
We were thrilled to see the video Dr. Pierce made for us. We were extremely satisfied with his review and are grateful that he was so excited to use our table! With Dr. Pierce's outstanding review and approval, our beautifully portable, durable and adjustable table will meet each and every portable table need for your practice to thrive!

---
Want to learn more about our Basic Pro Portable Chiropractic Table? Download our spec sheet below!