Lakeshore Chiropractic Group in St. Catharines, Ontario uses the Apollo Laser to provide cold laser therapy treatments at their facility. Chiropractor Dr. Albert Scales shares his experience working with Pivotal Health Solutions and the Apollo Laser Desktop Unit.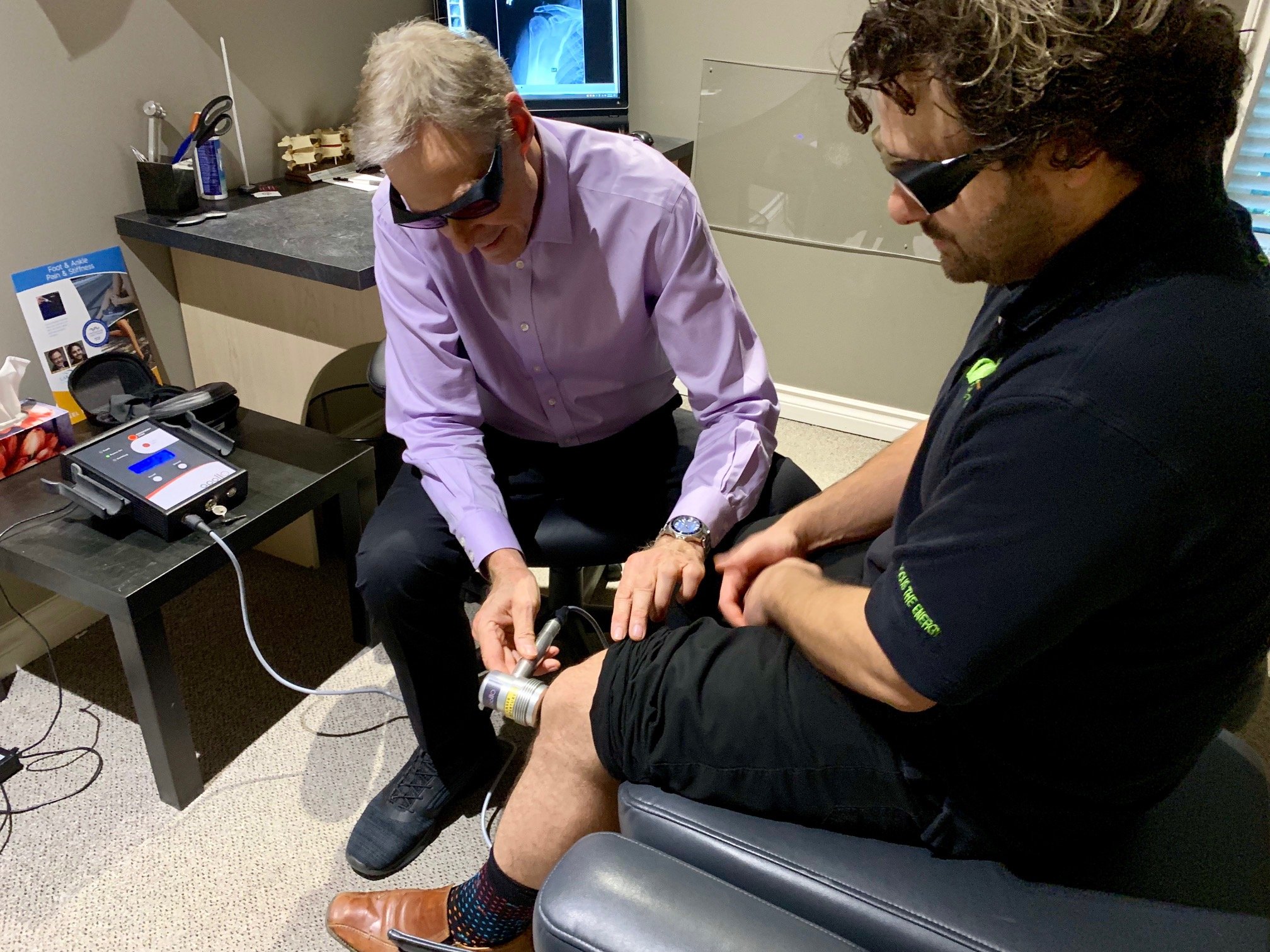 Apollo Class 4 Desktop Laser Unit


Q&A with Dr. Albert Scales
Chiropractor | Lakeshore Chiropractic Group
Q: Which Apollo model do you use?
A: "I am the proud owner of the Apollo Class 4 Desktop Laser Unit."
Q: Why did you decide to purchase the Apollo Laser?
A: "I have been using lasers for over 15 years and primarily Class 3B lasers. I was told that Class 4 lasers were dangerous and not safe to use, but I questioned, if so, why were they selling these types of lasers and being used for many health care related conditions with excellent results? I researched this unit both online and with doctors actually using them in their practice and liked what I discovered."
Q: What features to you like best about your Apollo Laser and probe?
A: "This laser is not only newer technology with faster results than other lasers, but uses a small footprint and a very compact laser probe. It is very simple to turn on, with a screen that indicates time and joules of energy being used while in treatment. It also comes with a very user friendly instruction manual with multiple pages of conditions to treat, beyond what we see in our practice every day."

Q: Have you seen noticeable results from your patients who use laser therapy?
A: "This is a very powerful yet effective laser. Many feel pain relief almost immediately and many difficult chronic conditions can be managed very nicely allowing our patients to stay active and reduce dependency on daily prescription medications."
Q: How do your patients like laser therapy?
A: "Patients send me testimonials all the time on how they love being treated by this type of laser for their acute and chronic conditions. They are actually excited to see the results."
Q: What treatment challenges did you face before you purchased your Apollo Laser system?
A: "Over the 38 years I have practiced as a chiropractic doctor, many of the back, neck, sports injuries and severe arthritic conditions have always been a challenge to treat, especially if patients were afraid that the treatments would be uncomfortable and not effective. Class 4 laser treatment by Apollo allows our office to treat a wider array of patients that would not normally come to the office for treatment, and gives our office an edge over regular treatment. This treatment does NOT replace chiropractic care of course, but certainly complements what we do, and encourages our patients to talk about it with their family and friends."
Q: Are you pleased with the products and service you received?
A: "Of course, owning any piece of equipment is only as good as its support team and the company behind it. I have been so pleased to contact Pivotal Health on many occasions and be treated with the utmost respect and consideration for our needs. Questions are always answered quickly over the phone, and any service required has been not only cost effective, but quick and efficient. Many thanks to you all."
Q: Would you recommend the Apollo Laser Therapy system to others?
A: "There are lots of new technologies that hit the health market every year, but I would certainly have doctors or treatment providers look into using Apollo Laser Therapy. This has got to be one of the most cost effective Class 4 laser systems on the market today. Remember, your patients simply want to see results and this system truly delivers."
"Thank you for bringing such an effective system to market and allowing our clinic to expand our treatment potential for a larger variety of conditions. Our website states that we use 'Innovative Health Care for YOUR Needs', and we truly mean it."
-Dr. Albert Scales, Lakeshore Chiropractic Group