An ounce of prevention is worth a pound of cure. Creating a planned preventative maintenance program for your Apollo Laser unit only makes good cents in the long run uncovering minor issues early to save time and money.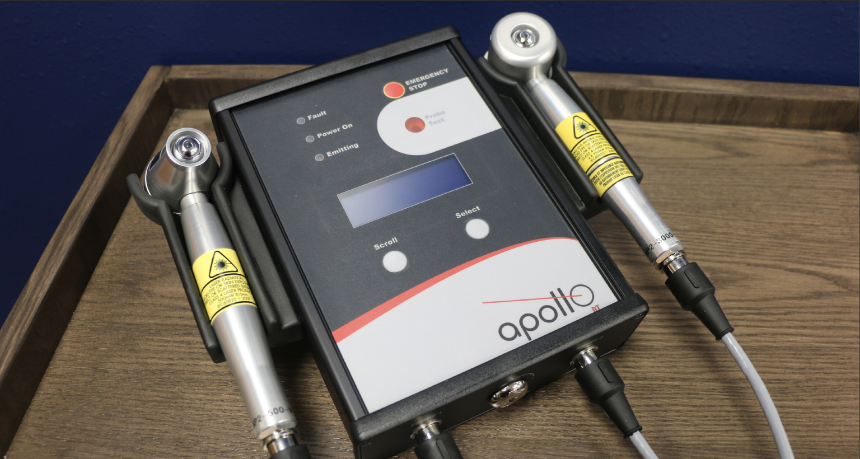 The Apollo Laser is an electrical device with laser diodes. Damaged cables, power supplies, or other damaged components can decrease the life and power of laser diodes used for treatment which can potentially decrease the effectiveness of a treatment being performed. Diodes are the most valuable part of your system since they convert electrical energy into light providing the power of the treatment. They can also be a more expensive service item, so catching any issues early can save you money. Gels, creams, oils or other products, like Biofreeze, can also damage electric components and lead to early diode failure.
With the compact size and easy transportability of the Apollo Laser, movement can make the device subject to drops, tight winding of cables, or other practices leading to increased service needs. Power cables and probe cables should not be tightly wound during storage. If a cable, power supply, or the device itself shows any damage, your laser system should be serviced immediately to ensure the safety and performance of the device was not affected. Contact Pivotal Health Solutions for instructions.
In addition to providing service, Pivotal Health Solutions has a Service Center to test your Apollo system and calibrate your laser so it remains in top operating condition. Routine calibration can be an excellent way to help maximize the life of your laser system. At calibration if the engineers find an out-of-spec component, you will be notified so you can determine a course of action. We have found that customers who calibrate their laser(s) annually decrease their overall service costs over the life of the device. Calibration generally takes a week plus shipping time. For busy clinics needing a rental unit while their original unit is returned for calibration, Pivotal Health Solutions has these available. Simply ask about availability when you call to obtain the Return Authorization Number for calibration.