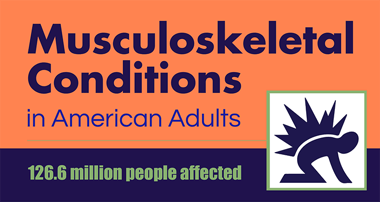 According to a new report from the United States Bone and Joint Initiative, an estimated 126.6 million people in the United States (one in two adults) are affected by a musculoskeletal condition.
The report, "The Impact of Musculoskeletal Disorders on Americans: Opportunities for Action," notes also that musculoskeletal disorders cost an estimated $213 billion in annual treatment, care, and lost wages.
According to the report, the most prevalent musculoskeletal disorders are arthritis and related conditions; back and neck pain; injuries from falls, work, military service and sports; and osteoporosis, a loss of bone density increasing fracture risk, primarily in older women, explains a media release from the American Academy of Orthopaedic Surgeons.
In 2012, 25.5 million people lost an average of 11.4 days of work due to back or neck pain, for a total of 290.8 million lost workdays in 2012 alone; and among children and adolescents, musculoskeletal conditions are surpassed only by respiratory infections as a cause of missed school days, the release continues.
Continue reading or enjoy the infographic below.
---

---
---
Sources: