Whole Body Vibration is a modality that has all the health and wellness benefits from exercise and allows people to benefit from the changes very quickly. By standing for 5-10 minutes a day while doing a few movements to transfer the vibration of the machine into various body regions, you can increase the flow of freshly oxygenated blood into the tissues, enhance lymphatic drainage and generally loosen your up. What exactly are these "movements" or vibrations that help benefit the human body?
VERTICAL Vibration (aka Tri-Planar, Vertical Uniform, Straight)
How does the platform move?􀀃 The platform moves straight up and down. Vertical vibration units tend to have platform motion with lower amplitude (about 2 – 4 mm) and often achieve comfortable frequencies (between 20 – 50 Hz).􀀃􀀃􀀃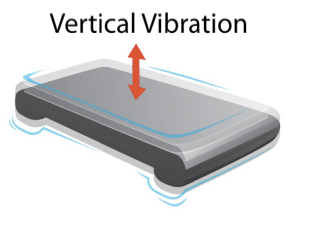 What happens inside the body? The vibration stimulus travels straight up through the body. The user's whole body weight is being mobilized; lymphatic fluids are being circulated well.􀀃
Who is this best for?􀀃 This is typically the best type of vibration for stronger and more active users. It is excellent for accelerated fitness training along with building and toning muscle. It is also a great help for combating Osteoporosis because it maximizes lymph drainage and promotes the release of osteoblast.􀀃
How DC's apply vertical vibration:􀀃 DC's use vertical vibration to enhance muscle building and prioprioceptive response in rehabilitation regiments once the patient is out of the acute phase. Many DC's use vertical vibration to treat osteoporosis because a weight bearing load is placed on the patient's entire skeletal structure. This type of WBV is also fantastic for lymph drainage and can be used for a pre-adjustment warm up.
OSCILLATING Vibration (aka Triangular Oscillating, Vertical Alternate Vibration, Pivotal, Toggle)
How does the platform move?􀀃 The motor drives a toggle mechanism that elevates one side of the platform, then the other side, sometimes described as a "teeter-totter" motion. Comparatively, Oscillating units have higher amplitude (up to 10 mm or 1 cm) and lower frequency (5 – 35 Hz).􀀃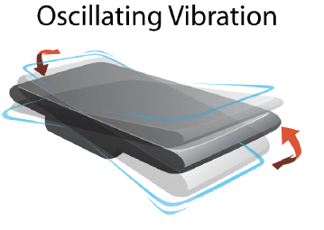 What happens inside the body?􀀃 Slow motion filming of the thigh, hip and abdominal areas show the incredible wave motion of subcutaneous fat, lending credence to the weight-loss/trimming ability of this modality. It contributes greatly to mobilization and activates the core muscles. Also great for increasing the metabolism and burning calories which aids in weight loss!􀀃
Who is this best for?􀀃 It's great for patients who suffer from lack of mobility in the lumbar and sacroiliac areas, core muscle weakness or generally have not exercised or been mobile for quite some time. It is the perfect type of vibration for the baby boomer and not-so athletic user who is interested in getting started and wants to feel better quickly.
How DC's apply oscillating vibration:􀀃 DC's use oscillating vibration equipment for patients who are stiff, lack core strength, and want to get their bodies stimulated, start exercising, and get moving. As society in the United States becomes more aware and conscious about healthy living, DC's have been using oscillating units in conjunction with weight-loss initiatives in their practice. 􀀃
ELLIPTICAL Vibration (aka Low-Intensity Vertical, 3-Dimensional)
How does the platform move? in these units, the motion is created by a vertically placed motor that has uneven centrifugal plates attached to it. This produces an elliptical motion of the platform which is the mildest form of vibration out of the three types. PowerVibe often compares Elliptical vibration to be a low intensity form of Vertical vibration. Comparatively, Elliptical units have lower amplitude (2 – 4 mm) and often function at higher frequency (20 – 50 Hz).􀀃
What happens inside the body? this is the most benign form of vibration that lends itself likely to be the best modality to stimulate the proprioceptive system. This is our innate balance system, which helps our body to orient itself in the 3 dimensional world. It stabilizes the body and gives us our sense of equilibrium.􀀃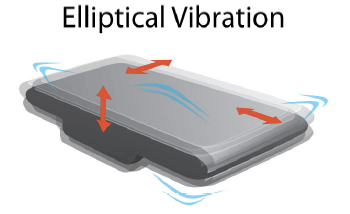 Who is this best for? elliptical Vibration works great for elderly users with balance issues and circulation problems and those who just want to increase their daily activities. Many of these users have been sedentary for a number of years and are not comfortable with the intensity of vertical or oscillating units. This is also the preferred type of unit for stroke patients or other central nervous system (CNS) issues. It is the perfect type of WBV for seniors or users under 150 lbs body weight!􀀃
How DC's apply vertical vibration:􀀃 In the practice, DC's have had great success using elliptical vibration units to enhance rehabilitation plans even when the patient is in the acute phase of an injury. Unilateral exercises can be performed to focus on a specific part of the body and the vibration stimulus accelerates rehabilitation at a phenomenal rate. DC's find that elliptical units are also fantastic for drastically improving proprioception, balance, and stability for geriatric patients.􀀃􀀃