PHS is excited to announce the newest version of the iTrac® Spine Remodeling System. This innovative system is now available to licensed healthcare providers for prescription use only. It is intended as a conservative treatment alternative for patients presenting with cervicogenic pain symptoms of mechanical origin related to reduced cervical lordosis/extension and altered posture. iTrac® is the only computerized system currently available to equip doctors to deliver gentle, effective spine remodeling therapy and has U.S. Food and Drug Administration 510K clearance.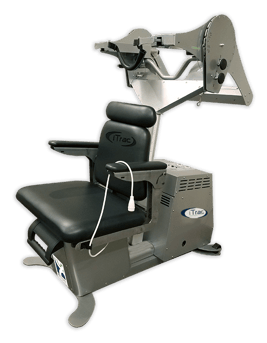 iTrac® was developed specifically to equip doctors to gently restore the cervical curve and reduce forward head posture, common conditions often exacerbated by our smartphone-centric culture. "Unlike traditional equipment which relies on pulleys and lead-weight bags, iTrac's fully computerized system gently delivers a gradual progression of traction forces throughout the treatment," said Dr. Jarrod Nichols, DC. Dr. Nichols helped develop the initial concept, including the software application for the medical device, and partnered with PHS Chiropractic to further refine it over the past decade.
Enhancements to the 2nd generation of iTrac® include pre-installed, instantly accessible software training videos for rapid, accurate implementation of the system into practice. The system has also been enhanced with a 5-drawer, PHS rolling work-station which provides therapy staff a convenient, portable station for the business-class laptop as well as storage for headgear and other treatment accessories. Access for nearly every patient is now possible with the inclusion of a completely purpose-designed ADA-compliant seat (check with your tax professional to see if you qualify for up to $5,000 tax credit). In addition to its ADA specifications, this new seat now facilitates Thoracic Kyphosis treatment, adding to the already wide range of patient setups available with the iTrac® system. These latest enhancements to the existing "iTrac® Cervical Curve Remodeling System" expanded the therapeutic ability of the machine and spurred the decision to change the name to the more descriptive and all-encompassing "iTrac® Spine Remodeling System." PHS is pleased to bring the 2nd generation of this innovative solution to doctors in all branches of physical medicine.
In today's high-tech clinic, doctors have multiple tools available to assess their current and new patients' posture. Traditional X-ray or Posture Analysis apps can provide fast and accurate results.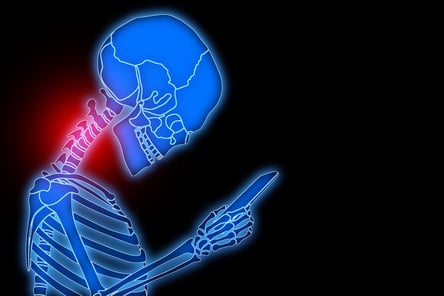 via shutterstock.com
Based on those assessments, a doctor can use iTrac® software to easily generate a series of progressive computer-controlled iTrac® treatments that stretch the ligaments and muscles in the anterior cervical and thoracic spinal regions to restore the cervical curve and reduce forward head posture. Once planned, these treatments are easily administered by assistants in the office thereby maximizing clinic efficiency and reducing doctor time. iTrac's unique Variable Rate Progressive Traction™ prevents "muscle guarding", the body's natural response to abrupt application of force, by slowly increasing the traction forces through an 8- to 12-minute treatment session. This feature allows the patient to stay relaxed and comfortable throughout the entire treatment to ensure they receive the greatest possible therapeutic benefit. Comfortable treatments coupled with great results builds an excellent practice!
iTrac® is designed to be an adjunct therapy to existing functional protocols in chiropractic and physical therapy clinics to provide long-lasting relief and structural improvement to patients who suffer from cervicogenic conditions such as neck pain, headaches, migraines, upper back pain and TMJ disorders. Forward head posture and cervical curve loss are major contributing factors in these conditions, and providing structural spinal correction allows patients to experience significantly reduced recurrence of cervicogenic conditions with minimal maintenance, even if they return to their forward head posture habits. It's estimated that more than 80 percent of U.S. adults have some degree of forward head posture, a number that will no doubt continue to rise due to a rapidly increasing, multigenerational reliance on hand-held digital devices and the negative postural stresses they can create.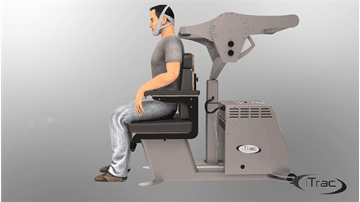 The unique iTrac® software also allows doctors to easily create custom treatment plans and reports for patients and referring health care providers in order to continue to improve spine remodeling therapy and applications of iTrac® over time.
The iTrac® Spine Remodeling System is available now for chiropractic, physical therapy, orthopedic, and rehabilitation clinics. The ADA-compliant iTrac® system may allow your clinic to qualify for Federal ADA Tax Credits up to $5,000. Please consult with your tax professional about eligibility. For more information, visit www.phschiropractic.com and www.itractherapy.com.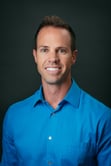 Dr. Jarrod Nichols is a chiropractic physician, entrepreneur and innovator. He received his doctorate from Palmer College of Chiropractic, graduating Magna Cum Laude in 2004. Dr. Nichols opened Nichols Chiropractic in 2005 where continues to treat patients. In 2006, he established Nichols Therapy Systems – an enterprise created to design and develop technologically advanced therapy products aimed at spinal curve & posture restoration. Dr. Nichols trains clinicians worldwide how to successfully integrate iTrac® Spine Remodeling into their clinical protocols.