iTrac® therapy provides a unique opportunity for chiropractors to build a broader referral base. Many physicians may be interested in offering patients a higher level of spinal therapy, and iTrac® allows them to easily incorporate posture-corrective (or structural) therapy into their clinical protocols, without having to drastically modify their existing practice. This directly benefits the patient by allowing them to receive a more thorough spectrum of spinal care, thereby promoting greater overall quality of life.
Potential Referral Sources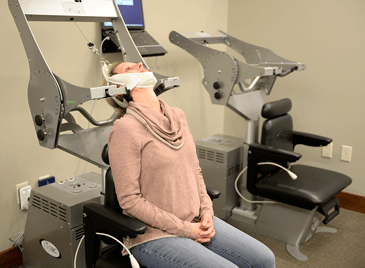 Often, it's the patients themselves who ask about iTrac®. In some cases, the patient may have researched your clinic online and discovered that you offer a unique therapy that is very innovative, yet simple and affordable. It is easy for patients to understand the correlation between their deteriorating posture and their neck pain, headaches, TMJ pain and other symptoms, due in many cases to long hours at a computer or too much time spent on a hand-held device.
In other cases, a patient may be referred to you by a friend, family member or co-worker who has already undergone successful iTrac® therapy in your office. However, in a growing number of cases, patients are being referred from other health care providers, such as primary care doctors, dentists, orthodontists, orthopedists, neurologists, physical therapists and even other chiropractors, and it is important that you successfully capture and nurture these opportunities.
Growing—and Keeping—Referrals
Face-to-face outreach is very effective, especially when informing and educating other healthcare providers in the community about the benefits of iTrac® therapy and the rapidly growing need for posture-corrective therapy based on our current lifestyle practices. This could take the form of in-office visits, lunches, seminars, health fairs or other opportunities.
Secondly, brochures, rack cards, and other literature can be useful in this process in order to provide doctors with hard-copy information they can read and present to their colleagues. It is definitely advantageous for referring doctors to know enough about iTrac® therapy to begin educating patients prior to their arrival at your clinic so that patients have a general understanding of what the process entails.
Thirdly, when it comes to generating referrals from physicians, nothing beats results! Do you have patients who have already benefited from iTrac®? Typically patients who experience an enhanced quality of life as a result of iTrac® therapy are eager to tell others about it in hopes that they might benefit from it as well. Remember that your patients are your best marketing resource.
But capturing the referral is only the first step. As you build a relationship with your new referral sources, remember to keep them updated. Informing referring physicians of the treatment progress of their referred patients is key to successful coordination of care for these patients as well as successful relationship building with the referring providers. Patient progress reports also provide ongoing opportunities to further educate referring providers about the numerous benefits of posture correction through iTrac® therapy.
The iTrac® Spine Remodeling System itself contains two key reporting features that allow doctors to easily and effectively report to the referring provider:
The Treatment Recommendation Report can be used to objectively demonstrate the patient's need for structural corrective therapy by laying out initial exam findings including the X-ray analysis and range of motion measurements. This report also allows you to provide an outline of your initial treatment plan so that the referring provider can fully understand the entire process his/her patient is about to begin.
The Progress Report can be used to objectively demonstrate the patient's improvement throughout different stages of a treatment plan. It compares initial X-ray and exam findings to the re-examination findings that follow the successful completion of an iTrac® treatment series.
Finally, tracking the source of referrals and demonstrating appreciation to these sources for the referrals received are key aspects of successful referral network management. Success can be measured directly by assessing two fundamental components of the referral network: 1) Is the number of referral sources in the referral network consistently increasing? And 2) Is the number of referrals from each of these referral sources consistently rising? If your referral network management is as it should be, you should be able to answer yes to both of these questions.