Bringing the iTrac® Remodeling System to your Clinic
The "
iTrac® Spine Remodeling System
"
is a modern and effective seated therapy device designed for restoring the cervical curve and reducing Forward Head Posture.
It is a great add-on service to your already effective chiropractic adjustments that will enable your adjustments to "hold" longer. It is the most hassle-free, high-tech spine remodeling device on the market that delivers effective, long-term and measurable results.
The science behind
iTrac®
is based on 30 years of Chiropractic Biophysics® research.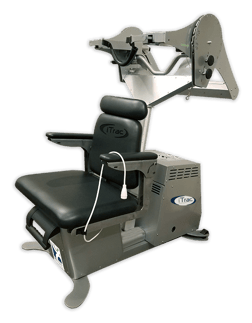 1. Majority of patients could benefit from the iTrac® System
It's estimated that 80-90% of Americans have forward head posture due in large part to our increasing use of hand-held digital devices. That means 8 out of 10 of your current patients are already candidates and could benefit from iTrac® therapy. You can add value to their chiropractic experience and give them:
positive results within 14 days

improved health and posture over the long-term

adjustments that "hold" longer

less pain and discomfort

better quality of life
2. Allows for higher productivity
After you have created the patient's treatment plan in the software, the computer-controlled traction allows your assistant to start the iTrac® treatment with the push of a button and walk away fully confident that the patient will be comfortable and the treatment will be effective. He or She will not need to return to the patient until 12 minutes later when the treatment is complete. This allows for virtually no human error and for a higher productivity of the doctor and assistant during treatment time. All of the patient data is stored in the iTrac® laptop, so there is no need to spend extra time on paper records either.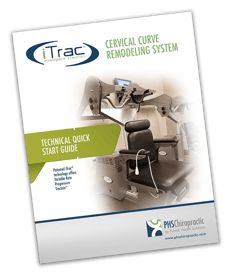 3. Stress-free virtual training
Your iTrac® purchase includes clinical support and training for you and your assistant, so you can feel comfortable with the device and software before you start using it. The iTrac® training takes less than 45 minutes and includes a segment of software tutorial videos and a virtual training session with the clinical support team. After the training, doctors and staff will be comfortable using iTrac® in their office, but should you have any additional questions, other training resources are available if needed.
4. Easy to implement into your practice
Once your training is complete, it will be simple to identify
patients within your practice who suffer with pain from loss of
cervical curve and Forward Head Posture. After x-rays or
posture analysis is performed, the iTrac® clinical quick start guide will offer
settings that best fit the patients' presentation and you can
confidently create and save their treatment plan in the software within 3-5 minutes. Y
our assistants can then implement the plan at each session
and you can be assured the patient will have effective,
comfortable treatment.
You do not need an x-ray machine in your office to use
iTrac®
. Doctors who have successfully used
iTrac®
have done so using posture analysis software or x-ray.
Your patients will appreciate hearing what to expect - a good stretch without any significant pain. Remind your patients that it took time for their curve to change into the position that it is in now, so it will take time to restore it back to normal. This is not a one-time treatment fix as results are seen over time.
iTrac® Benefits:
consistent, reliable results
comfortable for your patients
optimal results unless time than traditional traction therapy
increases patient satisfaction
increased revenue for you (with an added service)
increased reputation as a forerunner in your field
little to no human error
most advanced technology for cervical traction available
small foot print (the size of an elliptical machine)
based on 30 years of Chiropractic Biophysics® research
For any questions, please visit www. PHSchiropractic.com or e-mail info@pivotalhealthsolutions.com.